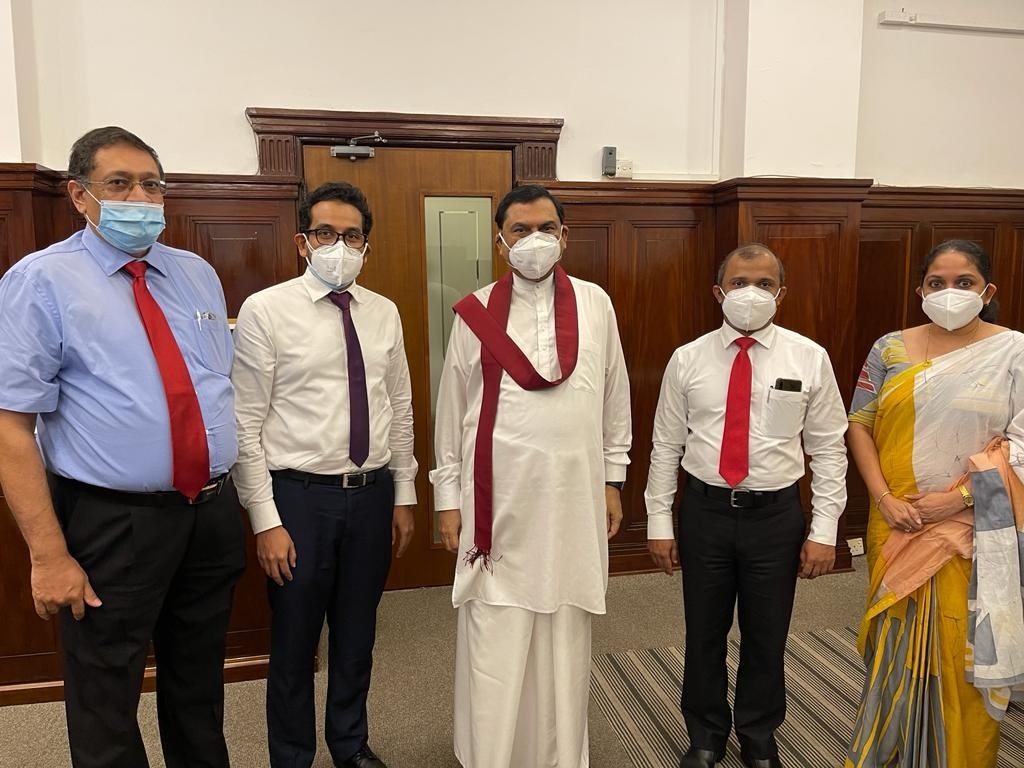 CA Sri Lanka submits budget proposals to Finance Minister Basil Rajapaksa
In its standing as the National Body of Accountants, officials of the Institute of Chartered Accountants of Sri Lanka (CA Sri Lanka) recently met with Minister of Finance, Mr. Basil Rajapaksa, and the Secretary to the Treasury, Mr. S R Attygalle, to discuss the upcoming National Budget for 2022.
During two separate meetings, Chairman of the CA Sri Lanka Tax Faculty, Mr. Sulaiman Nishtar presented a set of proposals on behalf of CA Sri Lanka and the Tax Faculty to Minister Rajapaksa and Mr. Attygalle, for consideration for the upcoming budget. The meeting with the Finance Minister was also attended by CA Sri Lanka's President, Mr. Manil Jayesinghe, Vice President, Mr. Sanjaya Bandara and Chief Executive Officer, Ms. Dulani Fernando.
During the meetings, matters pertaining to the current economic situation and the increasingly important role professional bodies such as CA Sri Lanka can play in helping the government were discussed at length.
The budget proposals submitted by CA Sri Lanka encompass a range of suggestions including how to enhance income generation and how to increase foreign currency income, which will help boost Sri Lanka's COVID stricken economy.
Over the years, CA Sri Lanka has played an influential role in assisting governments in generating a consistent and cohesive tax system supported by an efficient and effective tax administration to achieve equity for all taxpayers.
Amidst the COVID-19 pandemic and the related lockdowns which have severely affected the economy, the country and its people are preparing for a challenging year ahead. Therefore, CA Sri Lanka decided to assist the government by submitting a range of proposals aimed at enhancing economic growth including proposals in relation to bring in more trade and investment.
Meanwhile, CA Sri Lanka has also organised the annual budget seminar on 15th November 2021, which will provide participants with a comprehensive understanding on the national budget with special focus on tax related matters. The budget seminar, which will be held on a virtual platform will feature key government officials and also business leaders who will share their views on the government's national budget for next year.
CAPTION:
CA_62947: From L to R: CA Sri Lanka President Mr. Manil Jayesinghe, Chairman Tax Faculty, Mr. Sulaiman Nishtar, Finance Minister Mr. Basil Rajapaksa, CA Sri Lanka Vice President Mr. Sanjaya Bandara and Chief Executive Officer Ms. Dulani Fernando.