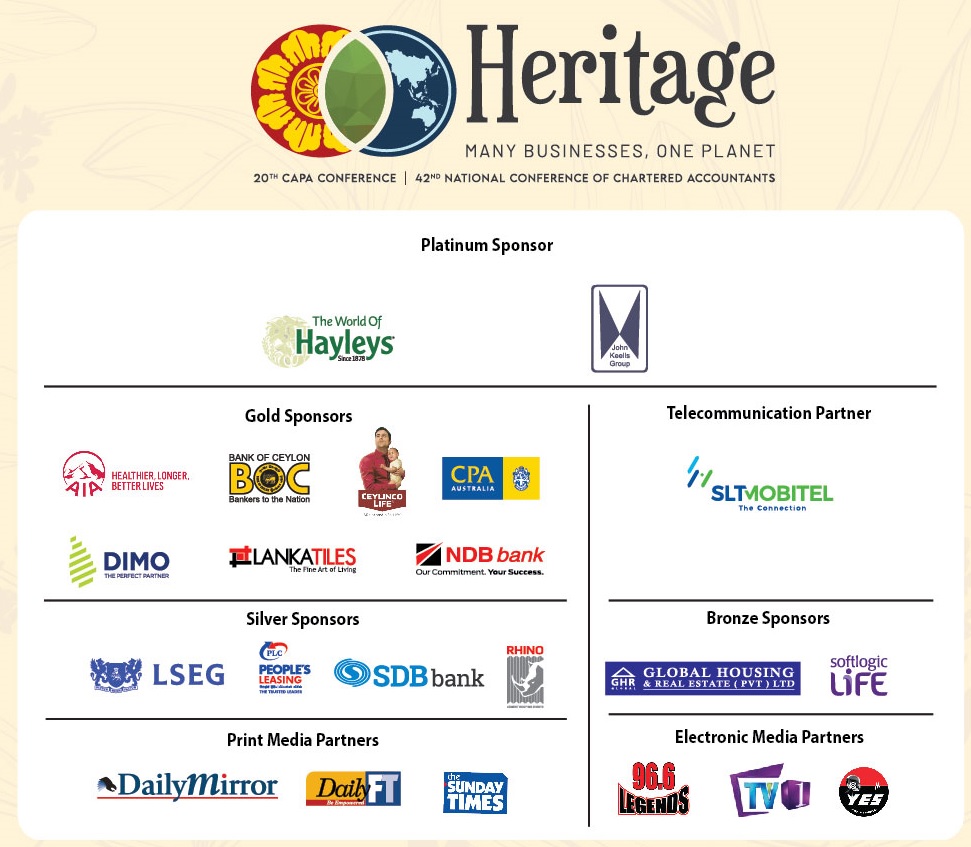 20th CAPA Conference and 42nd National Conference of CA Sri Lanka powered by top brands and corporates
Some of Sri Lanka's popular brands and leading corporates have come onboard to steer the 20th CAPA Conference and the 42nd National Conference of Chartered Accountants organised by the Institute of Chartered Accountants of Sri Lanka (CA Sri Lanka).
The joint event, which is earmarked to be one of the country's largest accounting assemblies ever hosted in Colombo, will be endorsed by 22 sponsors, hailing from diverse industries and sectors, including leading conglomerates.
The 20th CAPA Conference, is the flagship event of the regional accounting body, Confederation of Asian and Pacific Accountants (CAPA), and the 42nd National Conference of Chartered Accountants, dubbed Sri Lanka's biggest annual business summit, will see two of Sri Lanka's leading conglomerates, John Keells Holdings and Hayleys PLC coming on board as platinum sponsors.
The mega accounting event which will be held from 06th to 08th October 2021 on the theme "Heritage: Many Businesses, One Planet", will attract delegates from 30 countries including international and regional accounting and finance professionals, Chartered Accountants, business leaders and c-suite executives.
Some well-known corporates such as AIA Insurance Lanka PLC, Ceylinco Life Insurance Ltd, Bank of Ceylon, Diesel & Motor Engineering PLC, Lanka Tiles PLC and National Development Bank PLC will form an impressive line-up as gold sponsors, while leading Australian professional body, CPA Australia will also back the event as a gold sponsor.
The sponsorship line up will also comprise of silver sponsors and bronze sponsors. The London Stock Exchange Group, People's Leasing & Finance PLC, SDB bank and Rhino Roofing Products Limited will form the silver sponsorship line up, while Softlogic Life Insurance PLC and Global Housing & Real Estate (Pvt) Ltd have come on board as bronze sponsors.
SLT Mobitel, a leading mobile service provider, will be the official telecommunication partner of the 20th CAPA Conference and the 42nd National Conference, while the Daily Mirror, Daily FT, and Sunday Times will be the print media partners. The electronic media partners will comprise of TV 01, Yes FM, and Legend FM.
President of CA Sri Lanka Mr. Manil Jayesinghe said that the support of some of the country's well-known brands and corporates was a clear indication of the confidence reposed in the Institute and its activities by these top names.
Chief Executive Officer of CA Sri Lanka, Ms. Dulani Fernando said that the support of 22 brands and organisations was a clear testament to the Institute's standing as a world class professional body.