CA Sri Lanka's BSc. Applied Accounting Degree 14th intake attracts large number of students
Next Degree intake in April 2021
The 14th intake of the BSc. Applied Accounting Degree offered by the School of Accounting and Business of the Institute of Chartered Accountants of Sri Lanka (CA Sri Lanka) has attracted a large number of students, with the total number of undergraduates currently following the degree programme surpassing 1800.
The inauguration of the 14th intake of the degree programme which has been approved by the University Grants Commission and the Ministry of Higher Education was held under the patronage of CA Sri Lanka's Vice President Mr. Sanjaya Bandara and its Chief Executive Officer Ms. Dulani Fernando. The guest speakers at the inauguration were Deputy Managing Director of Dipped Products PLC Mr. Pushpika Janadheera and Director of PNB Holdings Mr. Priyantha Herath.
Addressing the new students and their parents at the event, Mr. Sanjaya Bandara highlighted that since the degree programme was launched by CA Sri Lanka in 2013, it has produced over 500 qualified graduates, and all the graduates are employed in the private and public sectors. "A key feature of our BSc. Applied Accounting degree is that the employability of our graduates is 100 percent."
He also said that if the students successfully complete the BSc. Applied Accounting (Special) degree, they also have the option of sitting for the final exam of the Chartered Accounting programme through the exemptions offered for the degree. "Basically, within just five years, you can complete the degree and also earn the CA qualification. Which will guarantee your employability and will also ensure that you are a highly demanded product not just locally but also across the global market," he said.
Mr. Bandara also noted that to achieve this impeccable position, it was important for students to have a vision, and drive their life to achieve the vision while also doing justice to their parents money. "From our end, we will provide you maximum support to achieve your objectives, but the commitment and need must come from your end," he added.
Delivering his guest speech, Mr. Pushpika Janadheera emphasised the need for students to be financial independent and to not depend on their parents. "You are big enough to think about yourself and start your own funding for your studies. Give your parents relief, and spoon feeding is not going to help most of the time," he said.
He said that some students think they cannot do anything else when they are studying. But he insisted that they have the ability to do multiple activities at the same time. "When I was studying CA, I was also at the University, and also following CIMA," he said.
He said that the undergraduates of CA Sri Lanka were very fortunate because they have the opportunity to not limit their learning to only the classroom as the BSc. Applied Accounting degree offered by CA Sri Lanka also allows students to become quality and experience professionals through the internship at top corporates. "You are 20 years, you have to sacrifice just four to five years of your life, and after that, you will have a worthy life, with a good profession and a good income. There is nothing to worry about accounting, because it is a well-paid job and you can get accounting jobs anywhere in the world and not only in Sri Lanka," he said.
Delivering his speech, Mr. Priyantha Herath said that only seven percent of the global population has access to higher education. "So, you are privileged to be in this group. Be proud of this, but more importantly, you need to take care of yourself, you parents and family, and also society. Use this opportunity effectively."
Mr. Herath urged the students to help those who maybe weak in a particular subject and also said that if an undergraduate missed a class due to a certain reason, someone should come forward to help him or her with the notes.
According to him, when the undergraduates' transition from student to professional, it is important that they possess the required energy, be physically and mentally fit, and be a team player along with emotional stability which will all contribute towards their long-term professional success.
The next intake for the CA Sri Lanka BSc. Applied Accounting degree will be in April 2021. The entry requirement for the degree is minimum three simple passes in any subject stream at the GCE Advanced Level.
The CA Sri Lanka BSc. Applied Accounting degree is offered under two stages where students can either complete the General Degree in 3 years or the Special Degree in 4 years. Students can also follow the degree on a full time or part time basis, with transfer options to Australia's La Trobe or Deakin University after completing two years in Sri Lanka.
A section of the new students who registered for the CA Sri Lanka BSc. Applied Accounting degree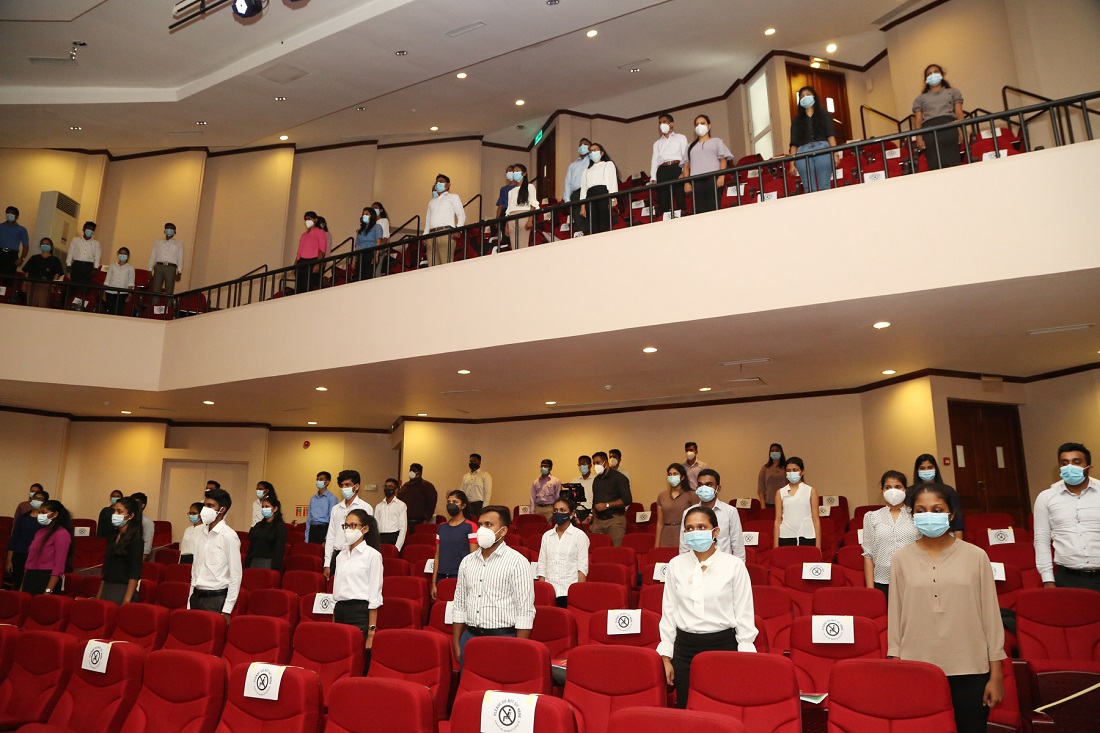 Head Table (L to R) – Mr. Pradeep Alexander, Director-School of Accounting & Business, Mr. Sanjaya Bandara, Vice President of CA Sri Lanka, Mr. Pushpika Janadheera, Deputy Managing Director of Dipped Products PLC, Mr. Priyantha Herath, Director of PNB Holdings, Ms. Dulani Fernando, CEO of CA Sri Lanka and Mr. K.H.G.U. Kariyawasam, Registrar.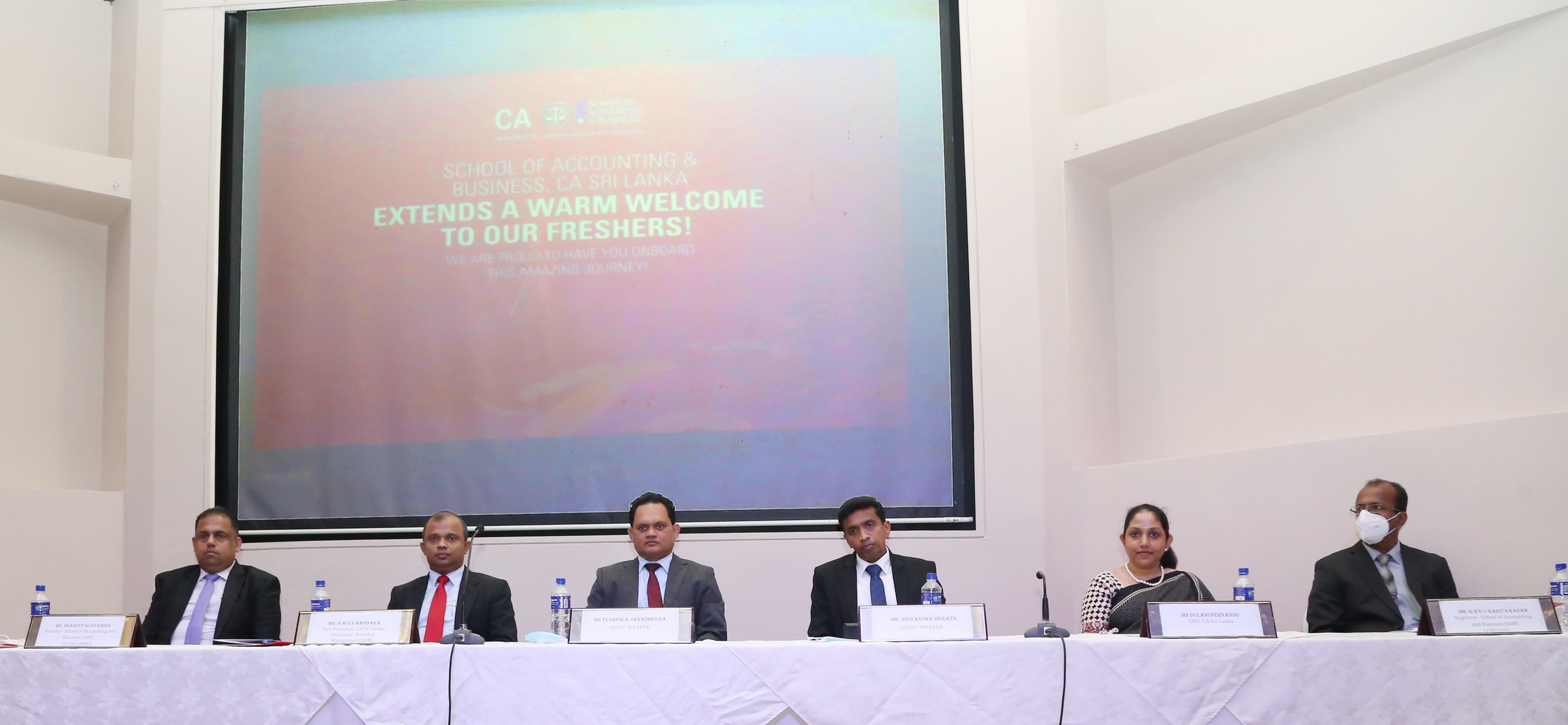 CA Sri Lanka Vice President Mr. Sanjaya Bandara addressing the gathering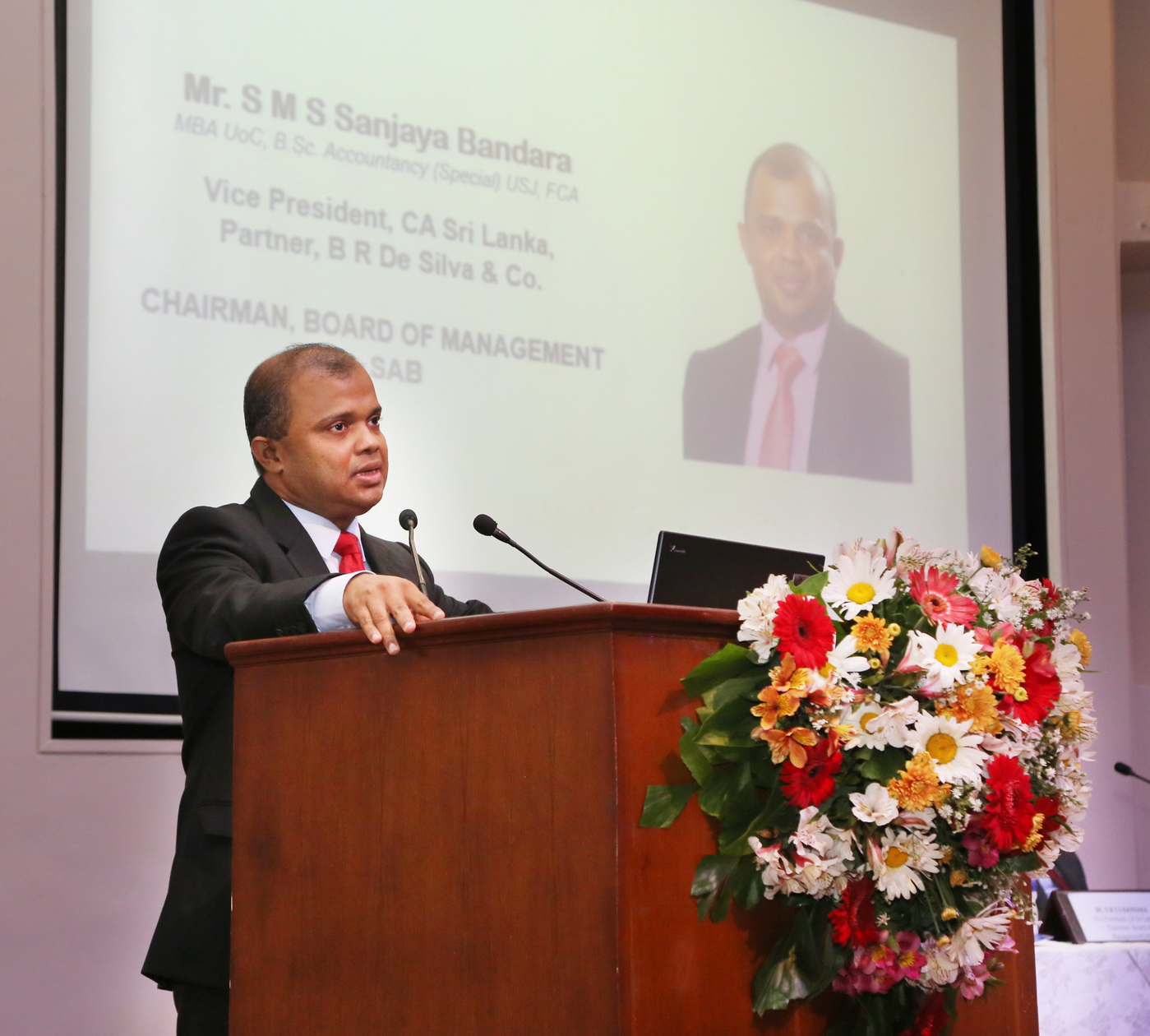 A token of appreciation presented to guest speaker Mr. Pushpika Janadheera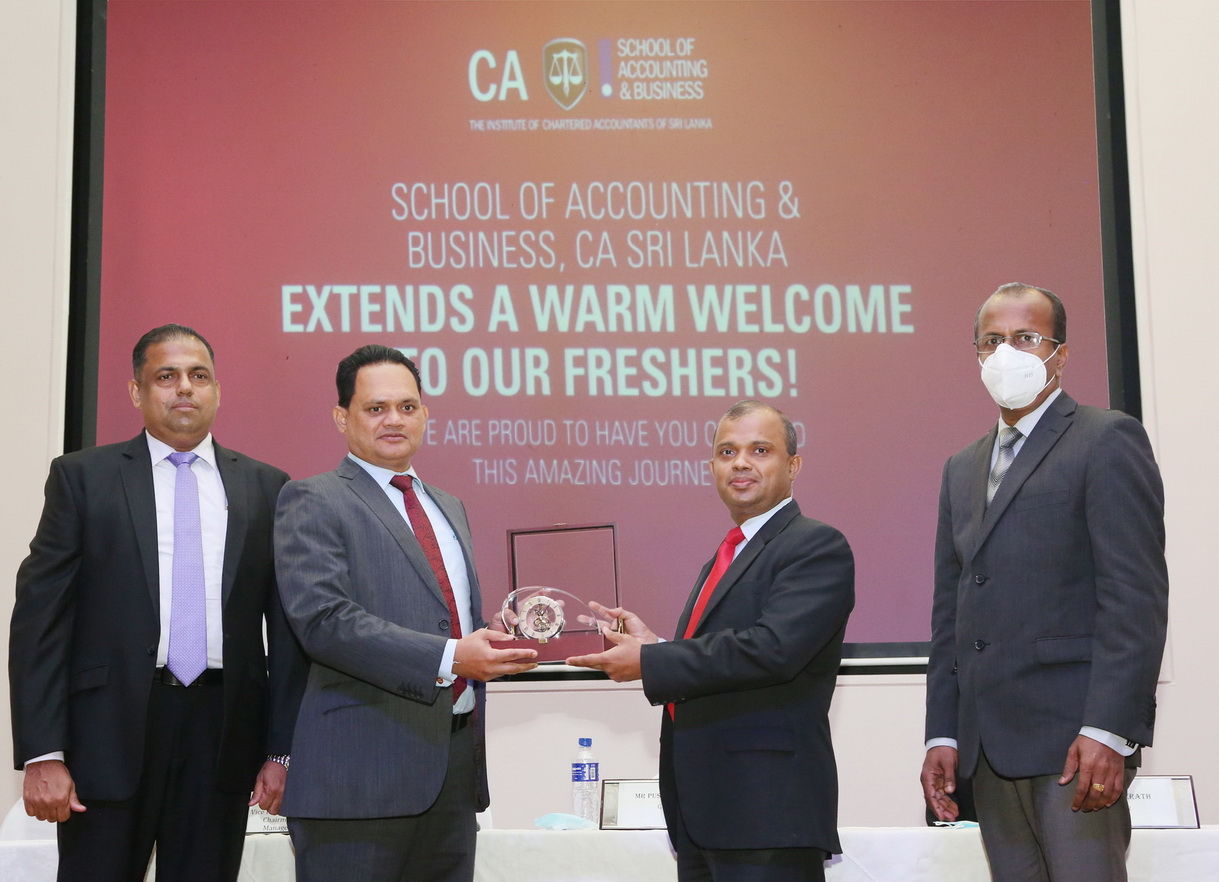 A token of appreciation presented to guest speaker Mr. Priyantha Herath