Executive Director of the Institute of Chartered Accountants of England and Wales (ICAEW) Mr Robin Fieth recently met a cross section of business leaders on the sidelines of the recently concluded 32nd National Conference of the Institute of Chartered Accountants of Sri Lanka. (CA Sri Lanka)

Mr Fieth was invited to be a key note speaker for one of the Conference's main sessions at the annual conference as a part of the excellent and long-standing relationship CA Sri Lanka has with ICAEW.

His address was very well received by the audience, largely CFOs, at a time when they were concerned about the global financial crisis and the pressures it has placed on them.  He was able to highlight the technical and thought leadership support and resources that ICAEW can offer them and commented "The Conference gave ICAEW an excellent opportunity to help Sri Lankan CFOs and aspiring CFOs during this difficult time".

Mr Fieth's address was followed by an open session with the audience and he joined an expert panel comprising of Mr Suresh Shah - session chairman and CEO, Ceylon Brewery plc; R Renganathan, MD and CEO, Ceylinco Life plc; Ms Gayathri Manatunga, Partner - Assurance, Ernst & Young and Mr Samantha S Ranatunga, MD and CEO, CIC Group.

During his brief visit in Sri Lanka, Mr. Fieth also paid a courtesy visit to the Governor of Central Bank Mr Ajith Nivard Cabraal along with Secretary/ CEO of CA Sri Lanka, Mr Aruna Alwis, contact member in Sri Lanka for ICAEW, Mr Jerome Chanmugam, Mr Tony Hegarty and Ms Jennifer Thomson from the World Bank.

During his meeting with business leaders Mr Fieth had the opportunity to understand and discussed in detail the current market trends and developments both locally and globally.
Mr Chanmugam and the Member Relations division of CA Sri Lanka facilitated and coordinated Mr Fieth's visit and the line-up of meetings.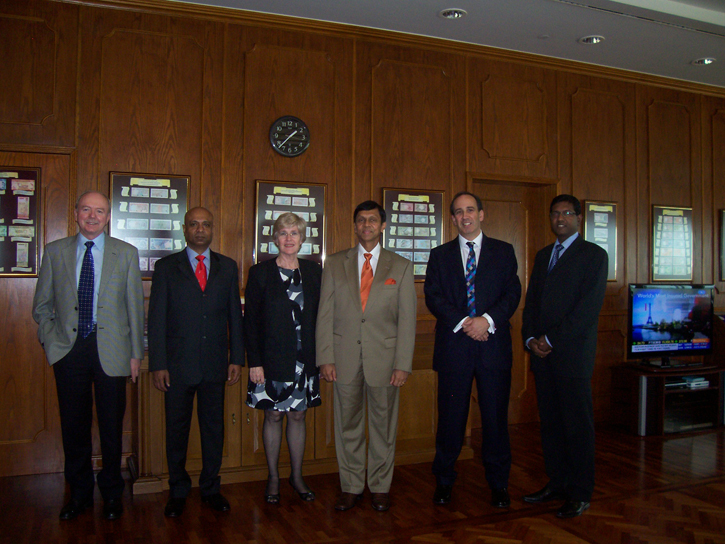 Picture from L to R :

Mr Tony Hegarty (Chief Financial Management Officer, World Bank) ; Mr Jerome Chanmugam (ICAEW Contact Member); Ms Jennifer Thomson (Regional Manager, Financial management , South Asia, World Bank): Ajith Nivard Cabral (Governor, Central Bank); Robin Fieth (Executive Director, Finance & Operations, ICAEW) and Aruna Alwis (Secretary/ CEO, CA Sri Lanka)