Supervising Members of the Institute of Chartered Accountants of Sri Lanka (CA Sri Lanka) have the ability to bring out the best in the trainees, and make them inspirational leaders who possess the right attitude and balance to life, helping them enjoy enhanced success in their future, said world renowned Prof. B. Mahadevan at the CA Sri Lanka Training Partners Forum 2016.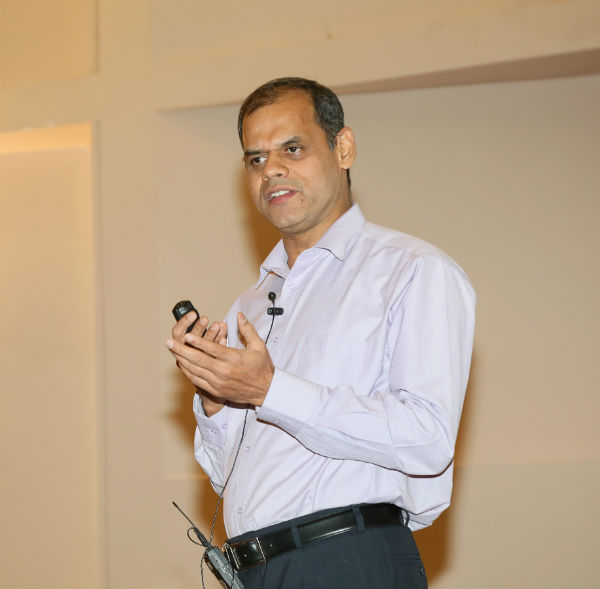 Delivering the keynote speech on 'Bringing out the leader from within,' Prof.  Mahadevan, Professor of Operations Management at the Indian Institute of Management Bangalore, said the world is changing including the business landscape, and therefore it's important for professionals to also change.
"We have seen great companies vanish into thin air because they didn't adopt to change," he noted.
He proposed that the training partners, including the supervising members incorporate certain areas which will help in producing more holistic professionals who are not only exceptional in doing business, but also knew the importance of balancing life with work and family.
"We need to introduce a mechanism where we can develop character of these youngsters through spirituality , and instill in them the capacity which can make them withstand the negativity, while also investing on key attributes by planting in them leadership traits," he said.
Prof. Mahadevan also elaborated on the importance of investing on character building, and warned that the failure to develop this important area will result in a tough future.
"They need to understand the importance of balancing professional life, and family life. Professional success alone isn't enough. They must have a good family life and also be good to society," he noted. Prof. Mahadevan also emphasized on the importance of developing the empathy trait in professionals than the sympathy trait. "Because, a person with empathy can be a better professional as he will be more understanding."
Elaborating on the importance of developing a positive attitude to life, Prof. Mahadevan said, "Attitude to life is important to measure success, not just skills, and competence in professional knowledge. Everyone has inspiration, but it just needs to be lit up," he said.
Addressing the forum, Vice President Mr. Jagath Perera noted that training partners play a major role in developing chartered accountants.
"Today chartered accountants are positioned as leaders, and our members are at the senior most levels with a significant percentage of them serving in the capacity of chairmen, directors, CEOs," he said.
He also disclosed that over 30 percent of the CA Sri Lanka members were serving overseas across 40 countries. "Some of the best members serve as Supervising Members, who help nurture and develop future chartered accountants," he added. Some 700 CA Sri Lanka members serve as supervising members at present.
Mr. Perera also noted that the institute has over 400 training partners and some 4500 students were currently undergoing training with training partners, and were being supervised by the supervising partners.
"A trainee today becomes a professional tomorrow, but to be a professional, it goes beyond the education and the examination process, and as supervising members, you'll have played an exceptional role in developing chartered accountants," Mr. Perera added.
Chairman of the Examination Committee and former Chairman of the Students Training & Development Committee of CA Sri Lanka, Mr. Manil Jayesinghe who spoke on 'Tomorrow's professional is today's trainee' emphasized that the supervising members has the ability to nurture future leaders who will go on to give leadership in the corporate world.
"Remember that the students you are training today has the potential to be your next Chairman or CEO, so you have to nurture them, give necessary expertise and the environment so they can become future leaders," he noted.
Elaborating on the importance of attitude, Mr. Jayesinghe noted that a positive attitude can be instilled in these students through demonstration. "A supervising member has the ability to help these students convert their attitude into a positive one," he said.
Emphasizing his point, Mr. Jayesinghe noted that when you see a glass of water half full, a negative person will say its half empty, but a positive person will say its half full. "So it is a matter of how you pass on this positive or negative attitude to the trainees, and this attitude that you pass on will help them in their future as chartered accountants," he added.
Chairman of the Student Training and Development Committee of CA Sri Lanka, Mr. Dulitha Perera said that the training partners and the supervising members are the engine that produces future chartered accountants.
"We have about 4500 active training agreements in place, and have 700 supervising members, with 300 in the public practice and 400 in the non-public practice. This is the engine that we are using to produce future chartered accountants," he noted.
Elborating on the Training Partners Forum, Mr. Perera said that the session was organized with an aim to empower, enrich and share thoughts with supervising members as it is they who interact and manage the trainees, who will be future chartered accountants. "The strength of the profession and the standing of the future chartered accountant lies on you," he told the supervising members.