Minister of Finance Mr. Ravi Karunanayake recently declared that the 2016 budget has paved the way for Sri Lanka to be among the best and lowest tax paying regimes in the world.
Addressing a houseful audience of over 900 including professionals, students and members of public at the Annual Budget Seminar organized by the Institute of Chartered Accountants of Sri Lanka (CA Sri Lanka), the Minister who was part of a panel discussion also elaborated that the taxation system that was in place was non-motivational and archaic and hence the new government took steps to ensure higher compliance while increasing revenue but incorporating innovative approaches.
"To be frank very few were paying taxes, so the new innovative approach adopted by the government helps cover the slippages we have had in the past, and gives our tax payers the opportunity to be absorbed into the tax net to ensure higher compliance," Minister Karunanayake said.
"We have now positioned ourselves as one of the best and lowest tax paying regimes in the world," the Minister declared.
He also called upon the Inland Revenue to be more effective and proactive in helping the government reach its goals. "However, implementation will be the biggest challenge, but we will be bringing 10 to 15 from the professional sector to help and guide the government so that we reach our destination," Mr. Karunanayake added.
He also noted that the country can have a completely new revival if every company increase their capital spending from Rs. 5 to 10 million, which will propel a completely new revival. "We are not going after huge investments, we don't want a single company to invest US$ 3 to 5 billion, but instead we are promoting where 15 to 20 companies can bring in US$ 2 billion. This is our target, and this will be the revival that will make Sri Lanka the game changer," Minister Karunanayake added.
He also highlighted that a study revealed that on average it takes 220 days for most investors who come to Sri Lanka to obtain approval. "This is not acceptable, when in countries like Philippines approval is granted in just 30 days," he said.
He disclosed that the government was going to implement a system where approvals for a general investor will be granted in 51 days, except for certain other investments which may take longer than this period. "Our intention is to ensure speedy approvals, and this is where the confidence factor comes in. We will hold the official in charge responsible if he fails to follow suit by ensuring the investor is granted necessary approval during the stipulated 51 days." Minister Karunanayake added that the legislation in this regard will be brought by March next year.
President of CA Sri Lanka, Mr. Arjuna Herath acknowledge that the overall sentiment was that there is a low tax regime in the country, which he hoped would lead to a kick start in the commercial environment.
"With the announcement of Prime Minister Ranil Wickremesinghe's policy statement, followed by the budget presented by the Finance Minister, the government has very clearly and explicitly expressed that they are initiating change; a change towards society of equal opportunity, an inclusive society devoid of gender, cast, creed and religious bias, and a government of increasing transparency, accountability, good governance and a business environment of equal opportunity," Mr. Herath added.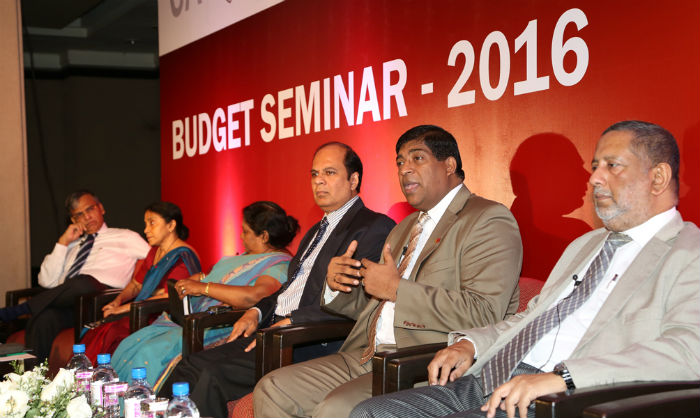 The panel session which comprised of key industry representatives from the public and private sectors, comprised of Mr. Arjuna Herath, President of CA Sri Lanka, Mr. Rajendra Thyagarajah, Vice President of the Ceylon Chamber of Commerce, Mr. S R Attygalle , Deputy Secretary to the Treasury, Ms. Kalyani Dahanayake, Commissioner General of Inland Revenue, Mr. N R Gajendran, Past Chairman of the Faculty of Taxation, Mr. Duminda Hulangamuwa, Chairman of the CA Sri Lanka Faculty of Taxation, Ms. Dhammika Gunathilaka, Deputy Commissioner General of Inland Revenue and Ms. Shamila Jayasekara, the Alternate Chairperson of the CA Sri Lanka Faculty of Taxation.