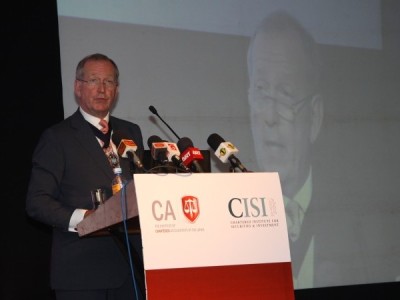 The visiting Rt. Hon. the Lord Mayor of the City of London, Alderman Alan Yarrow recently declared that Sri Lankan companies have played a crucial but unseen role in the development of the financial services in United Kingdom.
Citing reasons for his disclosure, Alan Yarrow said, "Sri Lankan companies play a pivotal and unseen role to the development of the UK Financial Services. Take for example MillenniumIT, which provides the software on which the London Stock Exchange operates on."
Addressing a high profile gathering of the country's top Chief Executive Officers, at the CEOs' Forum organised by the Institute of Chartered Accountants of Sri Lanka (CA Sri Lanka) and the Chartered Institute for Securities & Investment (CISI) on "Maintaining Competitiveness in Financial Services Sector- Insights from City of London as the leading global financial centre," Alan Yarrow, who is also the Chairman of CISI, extended the support of UK to help develop the financial services industry in Sri Lanka.
Elaborating on UK's position as a leading global financial centre, he said  that UK is the world's leading exporter of financial and professional services with a trade surplus of £ 71 billion in 2013, apart from being the largest source of insurance funds and pensions in Europe.
According to the Lord Mayor of London, investment in financial technology is growing faster in the UK and Ireland than anywhere else in the world, while UK has also accounted for 41% of global foreign exchange trading in April 2013 – well ahead of the USA, Japan and Singapore.
UK is also the leading Western country for Islamic finance, with US $19 billion of reported assets, and almost two-thirds of all RMB payments outside China and Hong Kong now take place in London and 28% of all international RMB payments are made in the UK – the most outside Hong Kong and mainland China.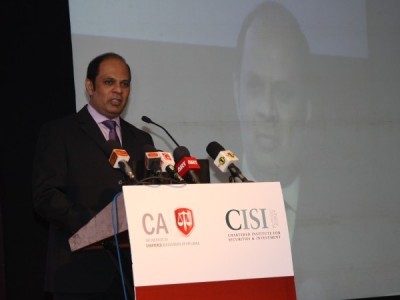 "In essence – the City of London has an unrivalled concentration of capital and capabilities, as well as a regulatory system that is effective, fair and principled.  And this means that more overseas financial institutions and investors choose to do business in, and with, the UK than any other country," he noted.
At present over 2 million people work in the financial services sector in the UK, but only 400,000 of them work in London, while the rest all work in the other financial hubs in the UK.
Speaking about the insurance industry, he said that there are 976 general insurance companies in the UK, and the industry boasts a number of compelling reasons for overseas firms to invest – including UK's expertise and skill base.  "We've also got a robust legal and regulatory framework and the law of contract is critical; we've got liquid capital markets, transparency in financial reporting and geographic position," he said.
With such a positioning, Alan Yarrow said that the UK Insurance Industry continues to attract investment from a broad range of overseas investors as well as from local UK-based businesses.
"The events of the past few years provide a reminder of the importance of firms acting and demonstrating their honesty, openness, transparency and fairness in all their business activities," he said.
Alan Yarrow noted that poor actions by single individuals can result in great costs to firms, both financially and through loss of reputation.  "Fostering an environment of trust, integrity and professionalism leads to greater confidence – ultimately strengthening a firm's reputation in the market. To use a cliché about trust: it arrives on foot and leaves in a Ferrari," he added.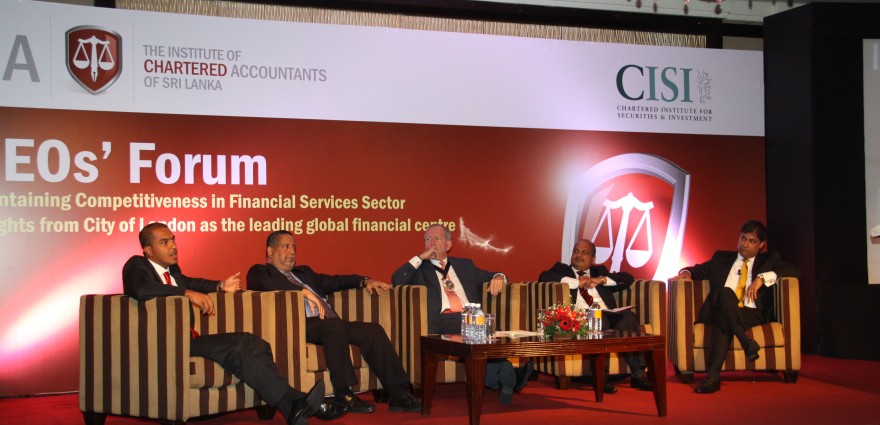 The CEOs' Forum was further boosted with a panel discussion featuring Mr. Rajendra Theagarajah – CEO of NDB Bank PLC, Mr. Dilshan Wirasekara – CEO of First Capital PLC and Mr. Chanakya Dissanayake – Country Head of Amba Research. Mr. Nisthar Cassim – Editor of the Daily FT, moderated the session.