A total of 23 high profile corporate directors were bestowed with the 'Accredited Director' status, while 58 directors were awarded with certificate of participation by the Institute of Chartered Accountants of Sri Lanka (CA Sri Lanka) and the Securities and Exchange Commission (SEC) on 07th May 2015 for successfully completing the Corporate Directors Programme.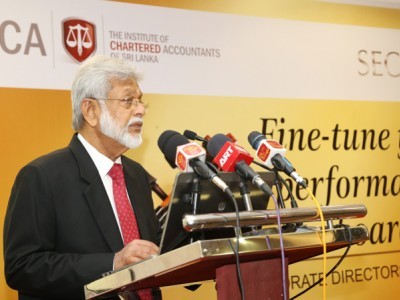 The awards ceremony was held under the patronage of Mr. Tilak Karunaratne, Chairman of the Securities and Exchange Commission.
As the trustees of the shareholders, directors play a major role in the business and therefore being equipped with the financial reporting requirements and the governance aspects have become vital for directors to perform their duties and responsibilities diligently. With this objective in mind, CA Sri Lanka and SEC came together last year to introduce a groundbreaking programme for directors to help uplift their knowledge and skills to equip them with the required knowledge in today's constantly changing context.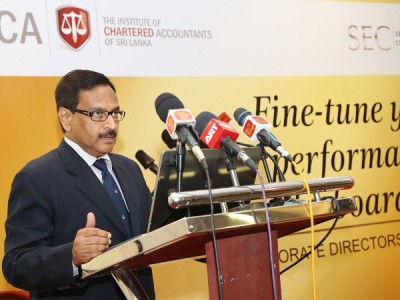 Having completed two successful intakes, the directors were recognized at the awarding ceremony for successfully completing the required modules of the programme and those who have fulfilled the requirements to be recognized as Accredited Directors.
The programme was conducted over ten sessions and featured a combination of lectures, panel discussions and work group sessions featuring well known experts including representatives from the corporate community, regulatory agencies, corporate lawyers, financial analysts, auditors and assurance providers.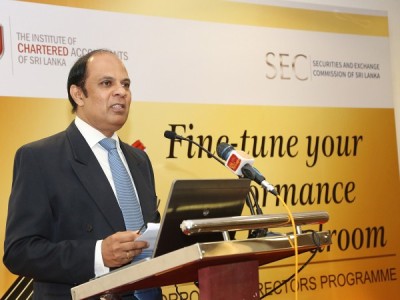 President of CA Sri Lanka, Mr. Arjuna Herath while congratulating the directors who were awarded with the Accredited Director status and the certificates, emphasized that a director's role is both critical and wide in their capacity as trustees of shareholders.
"In today's complex and constantly changing world, challenges are part and parcel of a director's daily life. Therefore as an institute which is championing good governance and is continuously endeavoring to offer the country's professional community with the thought leadership and most pertinent of programmes for their advancement, the Corporate Directors Programme is yet another important initiative aimed at enhancing the country's corporate leadership," he said.
He added that the importance of the programme was obvious by the overwhelming response it received, which led to a quick comeback for a second time in 2014, although the original schedule was to organize only a single programme for a year.
Meanwhile the third intake of the Corporate Directors Programme will commence on 12th May 2015.