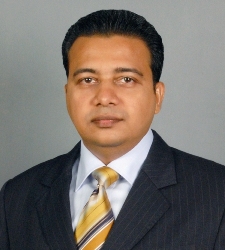 Member of the Institute of Chartered Accountants of Sri Lanka (CA Sri Lanka) and Partner of Ernst & Young, Mr. Sanath Fernando was recently re-appointed to serve a second term in the Implementation Group of the International Financial Reporting Standard for Small and Medium-sized Entities (IFRS for SMEs).
The appointment was made by the IFRS Foundation, the international body responsible for the adoption of International Financial Reporting Standards (IFRSs) and the oversight of the International Accounting Standards Board (IASB).
The IFRS Foundation selected the members of the Group on the basis of their knowledge and experience in the financial reporting of SMEs. Representatives of the European Commission and the European Financial Reporting Advisory Group (EFRAG) will participate in the work of the Group as observers.
Mr. Fernando, is a Fellow Chartered Accountant, a Fellow member of the Institute of Chartered Management Accountants of UK and a member of the CMA Sri Lanka and possesses experience in implementing International Financial Reporting Standards based on which Sri Lanka Accounting Standards are developed.
He also serves as the chairman of the Ernst & Young's Asia Pacific Accounting Subject Matter Group on IFRS for SMEs, and is also a member of the Financial Reporting Standards Implementation & Interpretation Committee of CA Sri Lanka. Mr. Fernando also currently serves as the chairman of the Sri Lanka Financial Reporting Standards Education Committee.
The mission of the IFRS SME Implementation Group is to support the international adoption of the IFRS for Small and Medium-sized Entities and to monitor its implementation. The Group has two main responsibilities: to develop non-mandatory guidance for implementing the IFRS for SMEs in the form of questions and answers that will be made publicly available on a timely basis; and to make recommendations to the IASB if and when needed regarding amendments to the IFRS for SMEs.
The IFRS for SMEs is a self-contained standard of fewer pages than the full IFRS, designed to meet the needs and capabilities of small and medium-sized entities, which are estimated to account for over 95 per cent of all companies around the world. The local version of IFRS for SME, which is called Sri Lanka Accounting Standard for SME (SLFRS for SMEs), became operative for financial statements covering periods beginning on or after 1stJanuary 2012.