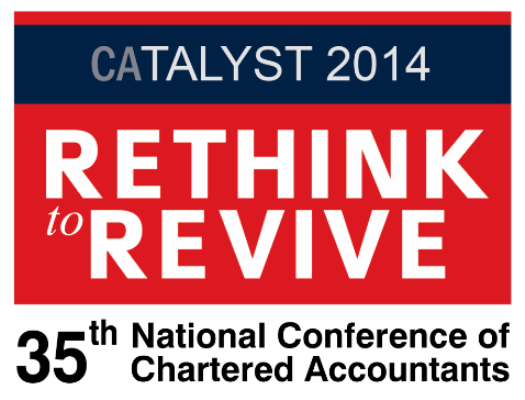 Some of Sri Lanka's top corporate leaders and well-known foreign experts will steer the technical sessions of the 35th National Conference of Chartered Accountants, where they will share important insights on this year's theme 'Rethink to Revive.'
Organised by the Institute of Chartered Accountants of Sri Lanka (CA Sri Lanka), this year's conference will comprise of seven technical sessions including a guest session where over 1200 chartered accountants including corporate leaders will be educated on the importance of changing with time, and moving away from traditional business models and conventional wisdom to cater to growing demands and changes, both economically and socially.
The two day long technical sessions of the conference will kick off on Friday, 24th October 2014 at the Waters Edge, Battaramulla, and will comprise of four sessions. The first session on the 'Need for New Economic Thinking' which will explore the current thinking on meeting the future economic challenges and opportunities will be presented by Ms. Johanna Chua, Managing Director, Head of Asia Pacific Economic and Market Analysis of Citigroup, Hong Kong. The panelists for the session will be Prof. Srimal Abeyratne, Professor of Economics, Department of Economics of the University of Colombo and Mr. Deshal De Mel, Senior Economist of Hayleys Group.
The second session on 'Rethink Disruptive Technologies' will see an insightful presentation by Prof. Gehan Amaratunga, Chief of Research and Innovation of the Sri Lanka Institute of Nanotechnology (SLINTEC). The session will see further insights shared by the two panelists, Dr. Harsha Subasinghe, Chief Executive Officer of CodeGen and Mr. Ranil Vitarana, Chief Technology Officer of MAS Holdings.
Mr. Kushan Kodituwakku, Managing Director of Orange Electric will share his thoughts during the third session on 'Rethink Contemporary Entrepreneurship' where he will share his perception on the importance for entrepreneurs to understand the global trends, and to foster new strategies within the organization to become world class business ventures. The panelists for the session will be Dr. Romesh Ranawana, Managing Director of SimCentric Technologies and Mr. Steven Enderby, Executive Director / Chief Executive Officer of Hemas Holdings PLC.
The fourth session on 'Accounting for Sustainability' will be steered by Mr. Rathika de Silva, Head of Sustainability and Business Excellence of DNV GL (DetNoskeVeritas), Sri Lanka, while the panelists for the session Mr. Chulendra De Silva, Head of Sustainability, Enterprise Risk Manager & Group Initiatives and Vice President of John Keells Group and Mr. Nuwan Gunarathne, Lecturer of the Department of Accounting of the University of Sri Jayewardenepura will share their insights on how corporates are adding considerable resource to progress towards the development of sustainability.
The fifth session on 'Leading the Revive' which will be held on Saturday, 25th October 2014 will see an insightful presentation by Dr. Roland B. Smith, Vice President and Managing Director APAC of the Centre for Creative Leadership, Singapore, who will speak on the importance of effective and efficient leadership skills which will have a bearing on the people agenda of organisations which would propel such organisations to be ahead of the pack. The session will be boosted by the two panelists; Mr. Mano Sekaram, Chief Executive Officer and Co-Founder of 99X Technology Ltd, and Mr. Ishan Dantanarayana, Chief People Officer of the Brandix Group, who will share their insights on the importance of rethinking the human dynamic.
The sixth session will be a panel discussion and will comprise of an elite panel of corporate leaders who will share their vision on 'Pushing the Boundaries of the Profession' helping professionals specially Chartered Accountants to focus on expanding their boundaries. During the session Mr. Mahendra Jayasekera, Managing Director of Lanka Tiles PLC, Mr. Dirk Pereira, Director / Chief Executive Officer of Union Assurance PLC, Mr. Naomal Goonewardena, Partner of Nithya Partners, Mr. Lalith Withana, Chief Operating Officer of Dilmah Tea / MJF Group and Mr. Thimal Perera, Deputy General Manager, Retail and SME Banking of Hatton National Bank PLC, will explore how Chartered Accountants have stepped out of their traditional roles and have progressed in their careers, and the importance of staying relevant while embracing new areas for their professional progression.
The technical sessions at the 35th National Conference will conclude with a Guest Session. This session will move away from the traditional technical sessions of matters relating to accountancy and other business matters and will focus on Sri Lanka being a bio diversity hot spot. The session will see a presentation by Dr. Madhava Meegaskumbura, Senior Lecturer in Zoology, Faculty of Science of the University of Peradeniya, who will share his insights on the topic.