The National Mobile Service Provider Mobitel has partnered the Chartered Accountants of Sri Lanka (CA Sri Lanka) as the Gold Sponsor of the 35th National Conference of Chartered Accountants for the fourth consecutive year.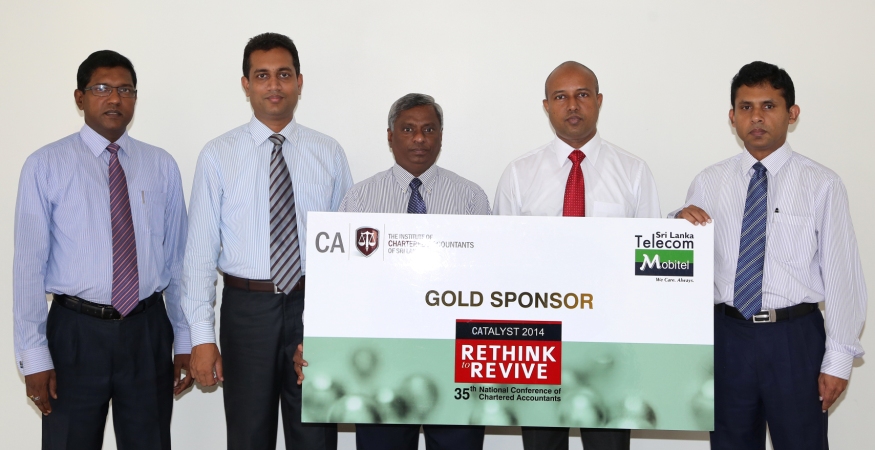 The National Conference of Chartered Accountants is one of the most anticipated events in Sri Lanka's corporate calendar. This year's conference which will be held from 23rd to 25th of October 2015 at Waters Edge, Battaramulla on the inspiring theme 'Rethink to Revive', will see a high profile participation as in previous years, including Chartered Accountants and business leaders who will be given an in-depth look at the all-important role that financial professionals play in converting challenges into opportunities and how failure to rethink the existing business models and conventional wisdom could be detrimental to the corporate bottom line.
"We consider it a great privilege to join hands with CA Sri Lanka, the leading and largest tertiary education provider in the country. CA Sri Lanka has played a pivotal role in changing the financial and economic framework of organisations through training in finance and accountancy. Its influence has made it possible for businesses and organisations in varying industries to achieve sustainable growth. Being a part of the 35th National Conference of Chartered Accountants is indeed an exciting occasion," Mobitel CEO Ranjith G. Rubasinghe stated.
Welcoming Mobitel onboard once again, President of CA Sri Lanka Mr. Arjuna Herath said that the partnership between Mobitel, the national mobile service provider and the leading body of accountancy in the country would enhance the standard of the national conference. The National Conference of Chartered Accountants is one of the most sought after corporate events in the country with an impressive participation of more than 1200 professionals annually.
"For the fourth consecutive year, Mobitel is supporting us with a gold sponsorship, and this alone is a testament to the event's standing. This year too we are expecting a full house as in previous years, and a larger number of participants from here and abroad via the webcast of the conference which is also powered by Mobitel," Mr. Herath added.
Sponsorship cheque was officially handed over to Vice President CA Sri Lanka, Mr. Lasantha Wickremasinghe by Mobitel Chief Financial Officer - Mr. Nishantha Weerakoon in the presence of Mobitel SeniorGeneral Manager – Corporate Planning, Mr. Sudarshana Geeganage; Chairman National Conference Committee, Mr. Heshana Kuruppu; and Secretary/CEO CA Sri Lanka Mr. Aruna Alwis, recently at CA Sri Lanka.