Six top students of the Institute of Chartered Accountants of Sri Lanka (CA Sri Lanka) recently bagged the subject prizes at the Strategic Level examinations conducted by the Institute.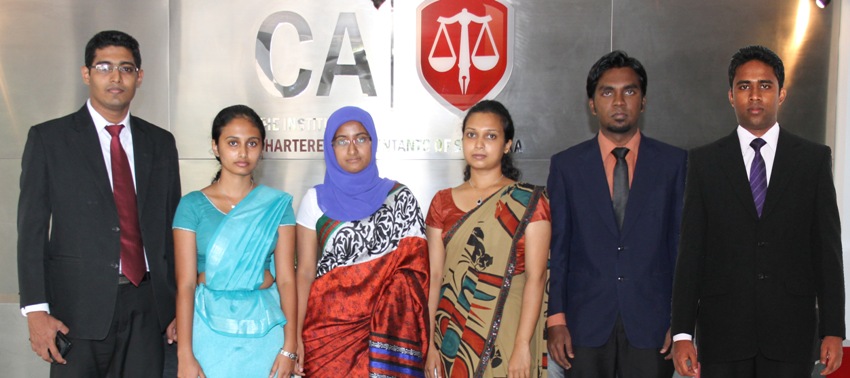 Aruna Prabath Weerasinghe, won the subject prize for Strategic Management Accounting, while Thilini Tharaka Samarasinghe was awarded the prize for Financial Reporting Framework at the Strategic Level I examination which was conducted in December 2013.
Shareefa Rifath Riyas Moulana won the subject prize for Strategic Management Process, and the subject prize for Advanced Taxation & Strategic Planning went to Rumesh Buddika Kodikara.
The subject prize for Commercial Law and Corporate Law was bagged by Anjalee Shameena Kumari Wettewa, and the Advance Financial Reporting subject prize for the Strategic Level II examination was won by Kushan Viranta.
In its capacity as one of Sri Lanka's largest tertiary education providers with an active student population of over 44,000, CA Sri Lanka offers a multitude of globally recognized programmes, including its unique professional qualification in chartered accountancy.
CA Sri Lanka is also the only professional organization in the country to offer a professional qualification and a degree in applied accounting under one roof which has also been approved by the University Grants Commission.
The chartered accountant is a professional specializing in the field of accountancy - well versed in the subjects of accountancy, auditing, management accountancy, information technology, taxation, corporate and commercial law, financial management, management, economics and a multitude of other subjects relevant for professional progression.
A majority of chartered accountants, who are members of CA Sri Lanka, hold top management positions across the private and public sectors in Sri Lanka. Furthermore, of the 4500 CA Sri Lanka members, approximately 30 percent of the members serve overseas which is testament to the institute's global standing as a recognized accounting body in the world.